Mental health is an integral aspect of our overall well-being, and as we continue to navigate the complexities of modern life, it's becoming increasingly important to prioritize our mental health needs. Depression, anxiety, and other mental health conditions can be debilitating, but with the right mindset and approach, we can learn to manage our emotions and thoughts in a healthier way. This is where mindfulness and self-care come into play, providing powerful tools to help us better understand our own minds and promote positive mental health. In this post, we'll explore some of the most impactful mental health quotes from experts and celebrities alike, drawing insights from the worlds of psychology, spirituality, and sports. Whether you're struggling with your own mental health, or simply seeking inspiration to live a more mindful and intentional life, these quotes will help guide you towards greater understanding, compassion, and self-awareness
Mental Health Quotes to Raise Awareness and Fight Stigma
Mental health problems don't define who you are. They are something you experience. You walk in the rain and you feel the rain, but you are not the rain.
Matt Haig
---
Mental health needs a great deal of attention. It's the final taboo and it needs to be faced and dealt with.
Adam Ant
---
Mental illness" is among the most stigmatized of categories.' People are ashamed of being mentally ill. They fear disclosing their condition to their friends and confidants-and certainly to their employers.
Elyn R. Saks
---
The advice I'd give to somebody that's silently struggling is, you don't have to live that way. You don't have to struggle in silence. You can be un-silent. You can live well with a mental health condition, as long as you open up to somebody about it, because it's really important you share your experience with people so that you can get the help that you need.
Demi Lovato
---
Mental illness is nothing to be ashamed of, but stigma and bias shame us all.
Bill Clinton
---
Mental health is not a destination but a process. It's about how you drive, not where you're going.
Noam Shpancer
---
Mental pain is less dramatic than physical pain, but it is more common and also more hard to bear. The frequent attempt to conceal mental pain increases the burden: it is easier to say "My tooth is aching" than to say "My heart is broken."
C.S. Lewis
---
It's okay to be a glow stick: sometimes we need to break before we shine.
Jadon Sancho
---
What mental health needs is more sunlight, more candor, and more unashamed conversation.
Glenn Close
---
You don't have to be positive all the time. It's perfectly okay to feel sad, angry, annoyed, frustrated, scared and anxious. Having feelings doesn't make you a negative person. It makes you human.
Lori Deschene
---
Mental health is something that we all need to talk about, and we need to take the stigma away from it. So let's raise the awareness. Let's let everybody know it's OK to have a mental illness and addiction problem.
Demi Lovato
---
You don't have to control your thoughts. You just have to stop letting them control you.
Dan Millman
---
Everybody knows there is no such thing as normal. There is no black-and-white definition of normal. Normal is subjective. There's only a messy, inconsistent, silly, hopeful version of how we feel most at home in our lives.
Tori Spelling
---
I was with someone recently who asked: 'Well, don't you think that if you do too much therapy it will take away your artistic process?' And I told them: 'The biggest lie that we've ever been sold is that we as artists have to stay in pain to create.
Katy Perry
---
One small crack does not mean that you are broken, it means that you were put to the test and you didn't fall apart.
Linda Poindexte
---
You can't control everything. Sometimes you just need to relax and have faith that things will work out. Let go a little and just let life happen.
Kody Keplinger
---
Your present circumstances don't determine where you can go; they merely determine where you start.
Nido Qubein
---
If we start being honest about our pain, our anger, and our shortcomings instead of pretending they don't exist, then maybe we'll leave the world a better place than we found it.
Russell Wilson
---
It doesn't have to take over your life, it doesn't have to define you as a person, it's just important that you ask for help. It's not a sign of weakness.
Demi Lovato
---
Sometimes the people around you won't understand your journey. They don't need to, it's not for them.
Joubert Botha
---
Your mental health is a priority. Your happiness is an essential. Your self-care is a necessity.
Healthy Place
---
If we start being honest about our pain, our anger, and our shortcomings instead of pretending they don't exist, then maybe we'll leave the world a better place than we found it.
Russell Wilson
---
I cannot stand the words "Get over it." All of us are under such pressure to put our problems in the past tense. Slow down. Don't allow others to hurry your healing. It is a process, one that may take years, occasionally, even a lifetime – and that's OK.
Beau Taplin
---
So often we try to make other people feel better by minimizing their pain, by telling them that it will get better (which it will) or that there are worse things in the world (which there are). But that's not what I actually needed. What I actually needed was for someone to tell me that it hurt because it mattered. I have found this very useful to think about over the years, and I find that it is a lot easier and more bearable to be sad when you aren't constantly berating yourself for being sad
John Green
---
Don't sacrifice yourself too much, because if you sacrifice too much there's nothing else you can give, and nobody will care for you.
Karl Lagerfeld
---
Find Out – Inspiring mental health quotes to break the stigma
Finding Hope in the Darkness: 25 Powerful Depression Quotes
What people don't understand about depression is how much it hurts. It's like your brain is convinced that it's dying and produces an acid that eats away at you from the inside, until all that's less is a scary hollowness. Your mind fills with dark thoughts; you become convinced that your friends secretly hate you, you're worthless, and then there's no hope. I never got so low as to consider ending it all, but I understand how that can happen to some people. Depression simply hurts too much.
Tyler Hamilton
---
The worst type of crying wasn't the kind everyone could see- the wailing on street corners, the tearing at clothes. No, the worst kind happened when your soul wept and no matter what you did, there was no way to comfort it.
Katie McGarry
---
Depression is not sobbing and crying and giving vent, it is plain and simple reduction of feeling.
Judith Guest
---
Depression is awful beyond words or sounds or images. it bleeds relationships through suspicion, lack of confidence and self-respect, the inability to enjoy life, to walk or talk or think normally, the exhaustion, the night terrors, the day terrors.
Kay Redfield Jamison
---
The word "depressed" is spoken phonetically as "deep rest". We can view depression not as a mental illness, but on a deeper level, as a profound, and very misunderstood, state of deep rest, entered into when we are completely exhausted by the weight of our own identity.
Jeff Foster
---
To dwell on the things that depress or anger us does not help in overcoming them. One must knock them down alone.
Albert Einstein
---
Depression isn't a war you win. It's a battle you fight every day. You never stop, never get to rest. It's one bloody fray after another.
Shaun David Hutchinson
---
Depression is melancholy minus its charms.
Susan Sontag
---
Depression is like a bruise that never goes away. A bruise in your mind. You just got to be careful not to touch it where it hurts. It's always there, though.
Jeffrey Eugenides
---
Depression on my left, Loneliness on my right. They don't need to show me their badges. I know these guys very well.
Elizabeth Gilbert
---
It's like I have this large black hole in my brain and it's sucking the life out of me. The answers are in there so I sit for hours and stare. No matter how hard and long I look, I only see darkness.
Katie McGarry
---
You say you're 'depressed' – all I see is resilience. You are allowed to feel messed up and inside out. It doesn't mean you're defective – it just means you're human.
David Mitchell
---
Try to understand the blackness, lethargy, hopelessness, and loneliness they're going through. Be there for them when they come through the other side. It's hard to be a friend to someone who's depressed, but it is one of the kindest, noblest, and best things you will ever do.
Stephen Fry
---
Maybe we all have darkness inside of us and some of us are better at dealing with it than others.
Jasmine Warga
---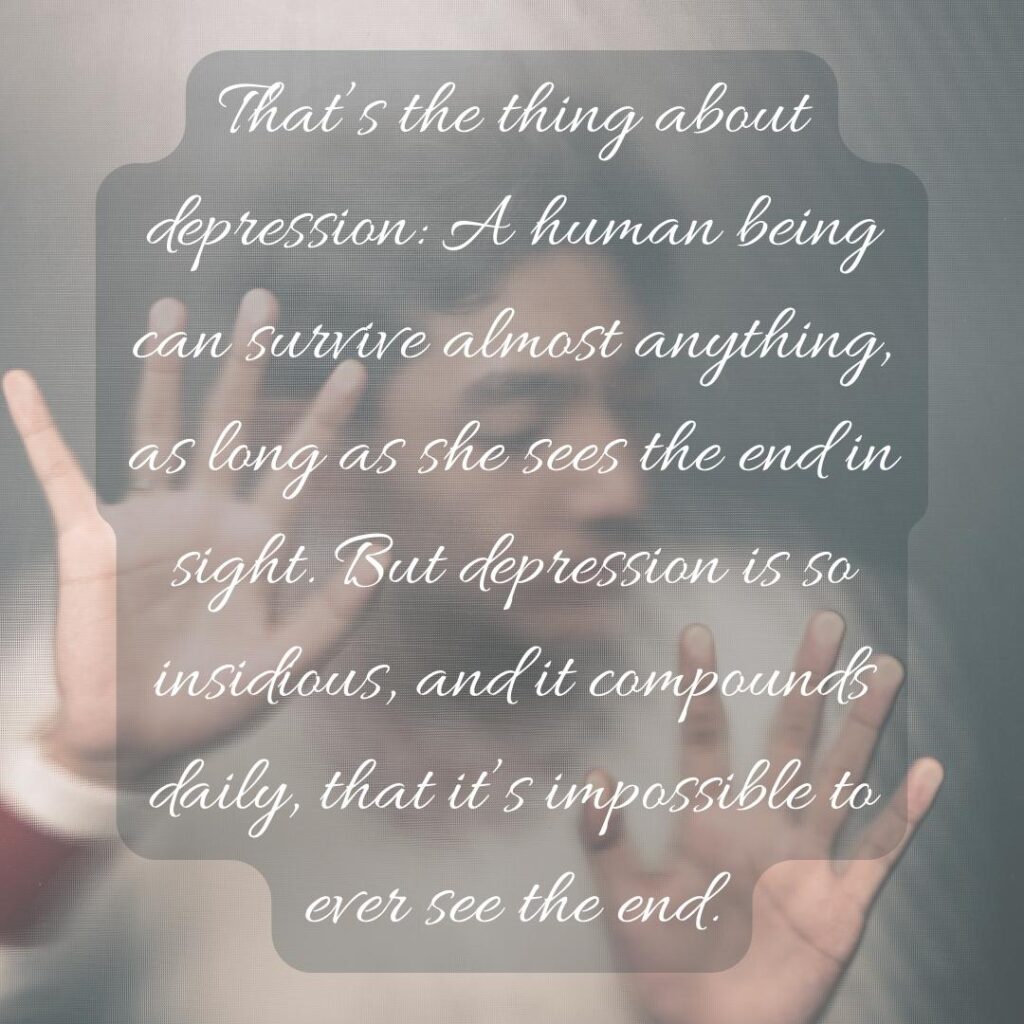 That's the thing about depression: A human being can survive almost anything, as long as she sees the end in sight. But depression is so insidious, and it compounds daily, that it's impossible to ever see the end.
Elizabeth Wurtzel
---
It's so difficult to describe depression to someone who's never been there, because it's not sadness. I know sadness. Sadness is to cry and to feel. But it's that cold absence of feeling— that really hollowed-out feeling.
J.K. Rowling
---
Depression is not sobbing and crying and giving vent, it is plain and simple reduction of feeling.
Judith Guest
---
Isolation and loneliness are central causes of depression and despair.
Bell Hooks
---
Depression, for me, has been a couple of different things – but the first time I felt it, I felt helpless, hopeless, and things I had never felt before. I lost myself and my will to live.
Ginger Zee
---
I just want to sleep. A coma would be nice. Or amnesia. Anything, just to get rid of this, these thoughts, whispers in my mind. Did he rape my head, too?
Laurie Halse Anderson
---
Depression is a part of you; it's in your bones and your blood. If I know anything about it, this is what I know: It's impossible to escape.
Jasmine Warga
---
I wonder what it will feel like when all the lights go off and everything is quiet forever. I don't know if it will be painful, if in those last moments I'll be scared, but all I can hope is that it will be over fast. That it will be peaceful. That it will be permanent.
Jasmine Warga
---
All depression has its roots in self-pity, and all self-pity is rooted in people taking themselves too seriously.
Tom Robbins
---
Take a shower, wash off the day. Drink a glass of water. Make the room dark. Lie down and close your eyes. Notice the silence. Notice your heart. Still beating. Still fighting. You made it, after all. You made it, another day. And you can make it one more. You're doing just fine.
Charlotte Eriksson
---
Depression is the most unpleasant thing I have ever experienced — It is that absence of being able to envisage that you will ever be cheerful again. The absence of hope. That very deadened feeling, which is so very different from feeling sad. Sad hurts, but it's a healthy feeling. It is a necessary thing to feel. Depression is very different.
J.K. Rowling
---
People who have never dealt with depression think it's just being sad or being in a bad mood. That's not what depression is for me; it's falling into a state of greyness and numbness.
Dan Reynolds
---
Looking for science behind the teenage depression?
Prioritizing Your Well-Being: 25 Empowering Self-Care Quotes
A healthy self-love means we have no compulsion to justify to ourselves or others why we take vacations, why we sleep late, why we buy new shoes, why we spoil ourselves from time to time. We feel comfortable doing things which add quality and beauty to life.
Andrew Matthews
---
The thing that is really hard, and really amazing, is giving up on being perfect and beginning the work of becoming yourself.
Anna Quindlen
---
Love yourself enough to set boundaries. Your time and energy are precious. You get to choose how you use it. You teach people how to treat you by deciding what you will and won't accept.
Anna Taylor
---
When I loved myself enough, I began leaving whatever wasn't healthy. This meant people, jobs, my own beliefs and habits – anything that kept me small. My judgement called it disloyal. Now I see it as self-loving.
Kim McMillen
---
Everyone thinks of changing the world, but no one thinks of changing himself.
Leo Tolstoy
---
Caring for myself is not self-indulgent; caring for myself is an act of survival.
Audre Lorde
---
Learning self-care is like building your own lifeboat, plank by plank. Once you've got your boat, you'll still be rocked by the waves of life, but you'll have a feeling of safety, and stability that means you can pick other people up on your way.
Nadia Narain
---
Breathe. Let go. And remind yourself that this very moment is the only one you know you have for sure.
Oprah Winfrey
---
Self-care is never a selfish act—it is simply good stewardship of the only gift I have, the gift I was put on earth to offer to others.
Parker Palmer
---
Self-care equals success. You're going to be more successful if you take care of yourself and you're healthy.
Beth Behrs
---
We are often so eager to support others, while our culture and even the conditions of our practices make it difficult to imagine or seek support for ourselves. We aren't meant to carry suffering alone.
Bonnie Badenoch
---
There is the in-breath and there is the out-breath, and it's easy to believe that we must exhale all the time, without ever inhaling. But the inhale is absolutely essential if you want to continue to exhale.
Brené Brown
---
Within you, there is a stillness and a sanctuary to which you can retreat at any time and be yourself.
Hermann Hesse
---
When you recover or discover something that nourishes your soul and brings joy, care enough about yourself to make room for it in your life.
Jean Shinoda Bolen
---
Keep good company, read good books, love good things and cultivate soul and body as faithfully as you can.
Louisa May Alcott
---
Love yourself first, and everything else falls in line. You really have to love yourself to get anything done in this world.
Lucille Ball
---
It's not selfish to love yourself, take care of yourself, and to make your happiness a priority. It's necessary.
Mandy Hale
---
Self-care is your fuel … Whatever the road ahead or the path you've taken, self-care is what keeps your motor running and your wheels turning.
Melissa Steginus
---
The love and attention you always thought you wanted from someone else, is the love and attention you first need to give to yourself.
Bryant McGillns
---
Self-compassion is simply giving the same kindness to ourselves that we would give to others.
Christopher Germer
---
Nourishing yourself in a way that helps you blossom in the direction you want to go is attainable, and you are worth the effort.
Deborah Day
---
People who love themselves, don't hurt other people. The more we hate ourselves, the more we want others to suffer.
Dan Pearce
---
The most creative act you will ever undertake is the act of creating yourself.
Deepak Chopra
---
Self-care has become a new priority – the revelation that it's perfectly permissible to listen to your body and do what it needs.
Frances Ryan
---
It is so important to take time for yourself and find clarity. The most important relationship is the one you have with yourself.
Diane Von Furstenberg
---
We need to replace your vicious stress cycle with a vicious cycle of self-care.
Dr. Sara Gottfried
---
Find Out – 50+ self-care quotes to encourage you to love yourself
Living in the Present: 25 Mindfulness Quotes to Cultivate Inner Peace
Mindfulness is a way of befriending ourselves and our experience.
Jon Kabat-Zinn
---
The present moment is the only moment available to us, and it is the door to all moments.
---
Mindfulness is the aware, balanced acceptance of the present experience. It isn't more complicated than that. It is opening to or receiving the present moment, pleasant or unpleasant, just as it is, without either clinging to it or rejecting it.
Sylvia Boorstein
---
Mindfulness is simply being aware of what is happening right now without wishing it were different; enjoying the pleasant without holding on when it changes (which it will); being with the unpleasant without fearing it will always be this way (which it won't).
James Baraz
---
Mindfulness meditation doesn't change life. Life remains as fragile and unpredictable as ever. Meditation changes the heart's capacity to accept life as it is. It teaches the heart to be more accommodating, not by beating it into submission, but by making it clear that accommodation is a gratifying choice.
Sylvia Boorstein
---
Mindfulness isn't difficult, we just need to remember to do it.
Sharon Salzberg
---
In mindfulness one is not only restful and happy, but alert and awake. Meditation is not evasion; it is a serene encounter with reality.
Thich Nhat Hanh
---
Mind is a flexible mirror, adjust it, to see a better world.
Amit Ray
---
When you realize there is nothing lacking, the whole world belongs to you.
---
Mindfulness is a way of living, not just a meditation practice.
Rasmus Hougaard
---
Mindfulness is about being fully awake in our lives. It is about perceiving the exquisite vividness of each moment. We also gain immediate access to our own powerful inner resources for insight, transformation, and healing.
Jon Kabat-Zinn
---
Meditation means dissolving the invisible walls that unawareness has built.
Sadhguru
---
Every time we ponder a thought, act on an impulse, or dwell on a desire, we are setting in motion a cause that will have a future effect. Mindfulness enables us to choose wisely.
Tamara Levitt
---
When you're quiet, everything settles on the floor of your mind like sediment in undisturbed still water.
Megan Monahan
---
The mind is everything. What you think you become.
Buddha
---
The most precious gift we can offer anyone is our attention. When mindfulness embraces those we love, they will bloom like flowers.
Thich Nhat Hanh
---
Be mindful of the future. But not at the expense of the moment.
Qui-Gon Jinn
---
Be aware of your breathing. Notice how this takes attention away from your thinking and creates space.
Eckhart Tolle
---
Mindfulness helps you go home to the present. And every time you go there and recognize a condition of happiness that you have, happiness comes.
Thich Nhat Hanh
---
Mindfulness is the aware, balanced acceptance of the present experience. It isn't more complicated than that. It is opening to or receiving the present moment, pleasant or unpleasant, just as it is, without either clinging to it or rejecting it.
Sylvia Boorstein
---
The key to creating the mental space before responding is mindfulness. Mindfulness is a way of being present: paying attention to and accepting what is happening in our lives. It helps us to be aware of and step away from our automatic and habitual reactions to our everyday experiences.
Elizabeth Thornton
---
Mindfulness is often spoken of as the heart of Buddhist meditation. It's not about Buddhism, but about paying attention. That's what all meditation is, no matter what tradition or particular technique is used.
Jon Kabat-Zinn
---
Stepping out of the busyness, stopping our endless pursuit of getting somewhere else, is perhaps the most beautiful offering we can make to our spirit.
Tara Brach
---
Mindfulness helps us freeze the frame so that we can become aware of our sensations and experiences as they are, without the distorting coloration of socially conditioned responses or habitual reactions.
Bhante Henepola Gunaratana
---
Practicing a mindful moment in the middle of the day, helps to bring you back to center, reset, and move into the rest of your day with greater clarity and focus.
Christine Agro
---
Mindfulness gives you time. Time gives you choice. Choices, skillfully made, lead to freedom.
Bhante Henepola Gunaratana
---
Find out Mindful exercises to reduce Anxiety